My 21-Day Smoothie Diet Experiment
Smoothies are a fantastic way to add protein, good-for-you fats, and loads of fruits and veggies into your diet. Skip the line at the smoothie shop and make your own at home to avoid downsides like artificial ingredients, added sugars, and extra calories. But don't just take my word for it— use my experience! For three weeks, I embraced a smoothie-only diet. I had MUCH more energy, a clearer mind, glowing skin, and the happiest of bellies. Here's what was on the menu…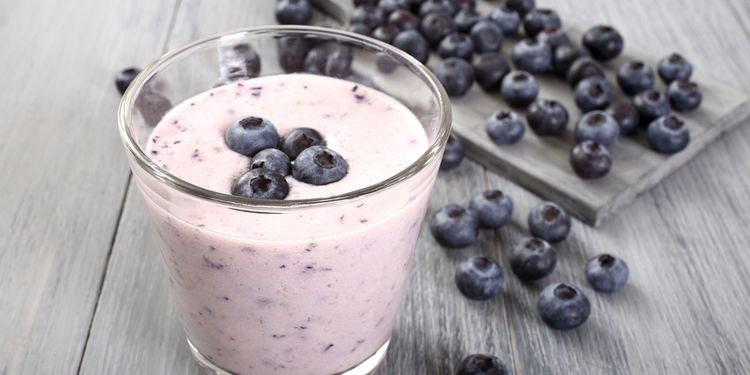 Blueberry Yogurt Smoothie
Blueberries contain antioxidants, boast brain-boosting powers, and can keep your immune system humming along at its best. For those who aren't lactose intolerant, mix blueberries and cow's milk yogurt for the most incredibly simple and flavorful smoothie. For an added bonus, throw in some spinach and you'll get both fruits and veggies in one.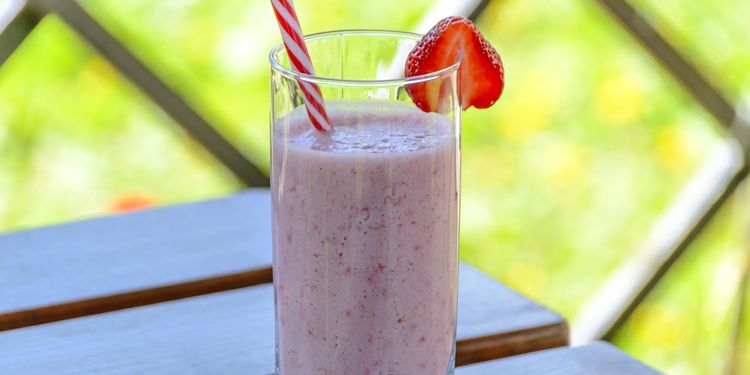 Strawberry Papaya Smoothie
Oh, papaya! My favorite way to add fiber, antioxidants, and a touch of the tropics to my smoothie. Strawberries give this one a mellow flavor, and with rich, creamy coconut milk as your liquid, you'll get happy belly benefits. For all their sweetness, strawberries are relatively low in sugar and high in dietary fiber. They give you anti-aging flavonoid antioxidants, which can help decrease your risk of cancer, cardiovascular disease, and inflammation. You really can't go wrong with this one!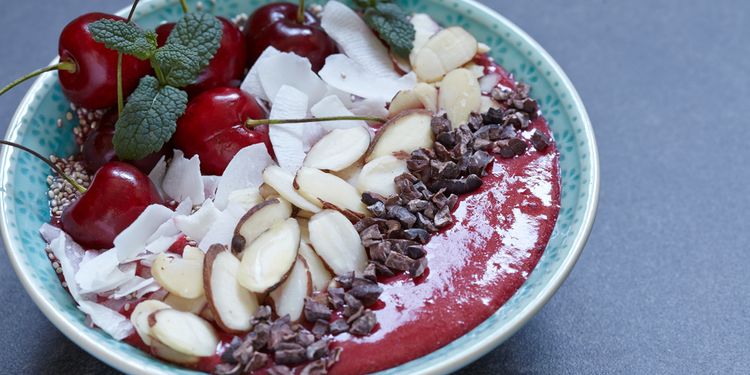 Cherry Almond Smoothie

This is one of my absolute favorite smoothies! A great way to satisfy both a sweet tooth and a desire for well-being, this smoothie makes a wonderful evening treat. Cherries and almonds mean you'll have improved digestion and decreased inflammation, and you'll get better sleep too. Cherries have been shown to get rid of belly fat, so take that, cake— you can have your cherry almond smoothie and eat it too!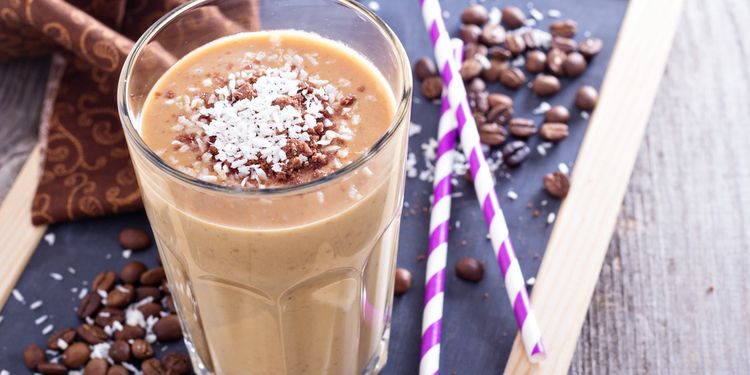 Coffee Smoothie

True confession time: I. Love. Coffee. But I also know that too much caffeine isn't good for the lining of my gut or my sleep cycle, and it definitely doesn't do me any favors when I'm experiencing anxiety. The very rare appearance of a coffee smoothie in my diet is something I can live with, though, especially when adding a banana and some probiotic-rich Greek yogurt (or coconut milk when I'm avoiding dairy).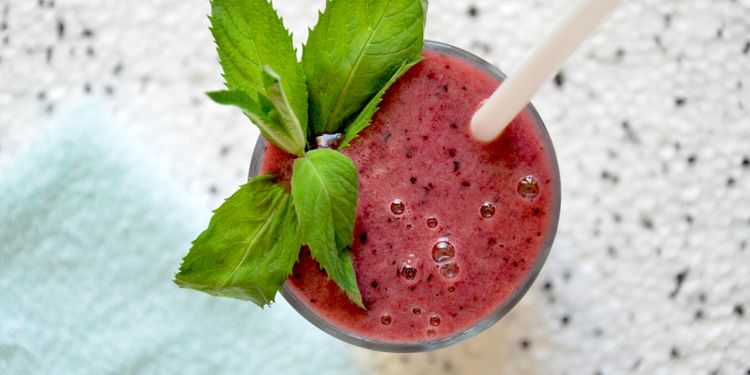 Watermelon Berry Smoothie
Let me tell you— watermelon berry smoothies go down easy. This smoothie is perfect for an outdoor party, and it's so simple! Because watermelon is full of, well, water, you don't need any other liquid in this one. Set up the blender, thrown in some sliced watermelon, blueberries, and raspberries with ice and you have a treat high in vitamins A and C, both of which help fight off free radicals and are known for their anti-aging properties.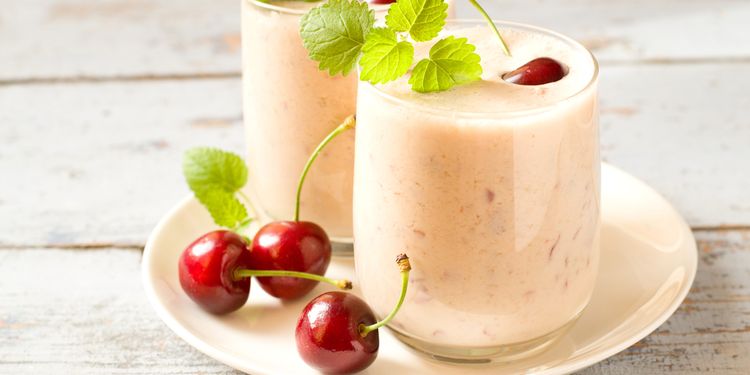 Cherry Vanilla Smoothie
I'm not gonna lie, this one's going to look gross, but it's oh-so-delicious! Fresh or frozen cherries and pure extract of vanilla add sweetness to superfood baby kale in this power-packed drink. Kale's pros include oodles of vitamins A, B6, C, and K, plus iron, manganese, calcium, copper, potassium, and magnesium, so you'll get heart support and cancer-prevention properties.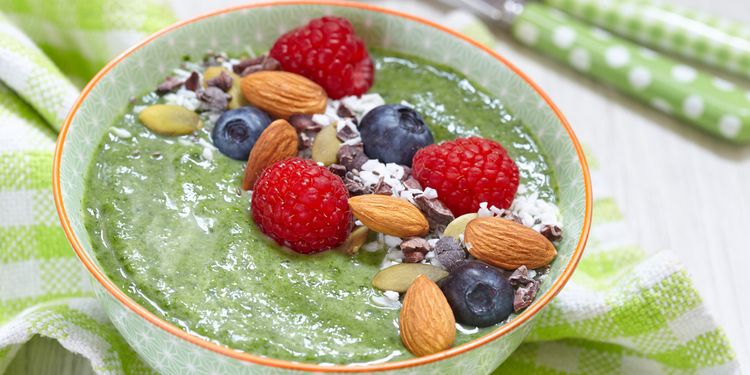 Coconut Green Smoothie
Calling all coconut lovers! You know you love it for its delightfully nutty, fatty flavor that seems like it should be on the naughty list. What you may not know is that coconut milk, along with coconut water and coconut oil, is one of the best foods to strengthen your immune system, prevent disease episodes like heart attacks or strokes, and actually lower both your cholesterol and blood pressure.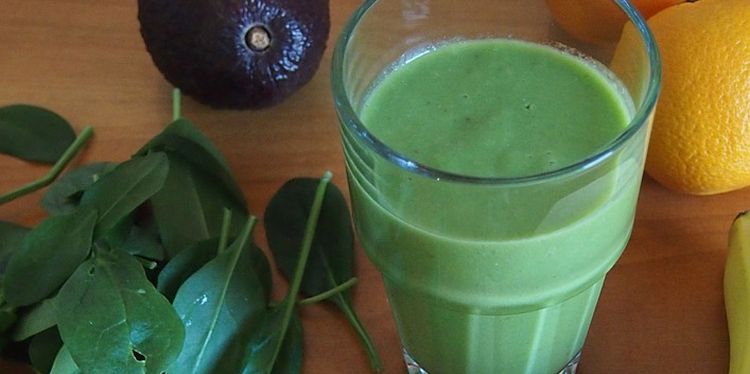 Spinach Smoothie
Spinach is the original green of the smoothie world, and it's no surprise why it's had such staying power. It's straightforward, packed with nutrients, and yummy. I like this one not just for its excellent flavor but for the beauty boost my hair, eyes, and skin get from consuming it. Spinach is the easiest green to consume in a smoothie, so have fun experimenting with creative takes on this using spinach and your choice of milk as a springboard to greater taste heights.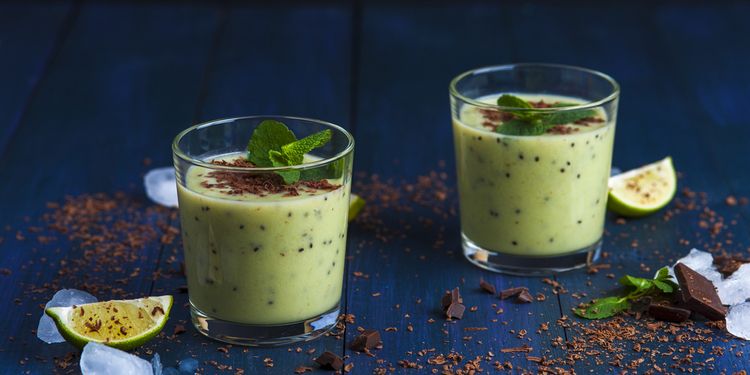 Chocolate Chip Mint Protein Smoothie
You say "milkshake," I say "smoothie." This one tastes like dessert but is chock-full of terrifically healthy ingredients like spinach, coconut milk, bananas, and yogurt (if you do dairy). A dash of pure peppermint extract and antioxidant-rich, unprocessed dark chocolate chunks help lower your blood pressure and cholesterol and improve blood flow to the brain and heart. A note of caution here: milk chocolate or processed chocolate chips will not give you the same health benefits.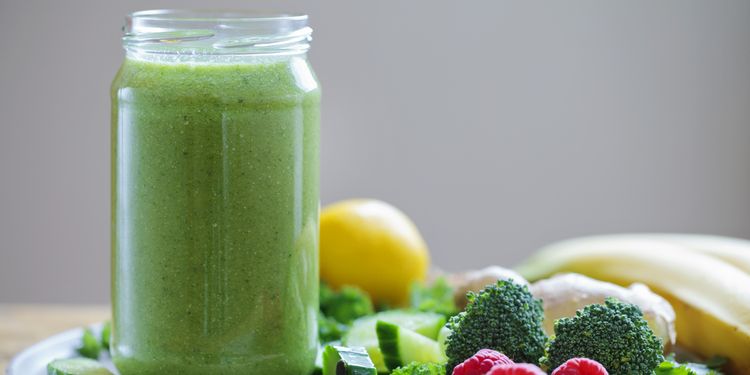 Pumpkin Pie Green Smoothie
I like pie. I also like my pants to fit, hence the pumpkin pie green smoothie. Pumpkin puree, spinach, coconut milk, almond milk, and pumpkin pie spices like ginger, cinnamon, and nutmeg make this one amazing, guilt-free glass of goodness. Ginger improves digestion, reduces inflammation, and can reduce nausea. Cinnamon also aids with digestion and stabilizes blood sugar. Nutmeg helps you sleep better and gives you beautiful skin. So go on. Do it. Have a big slice of smoothie.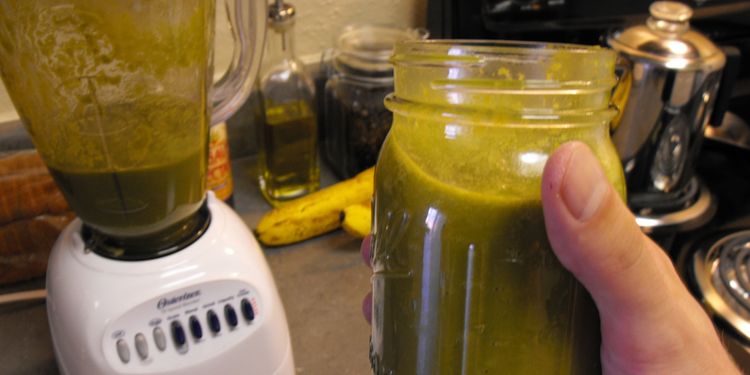 Stomach Aid Smoothie
Sometimes no matter what good things you do for your body, you still need a little extra something to help out your tummy. Thankfully, our stomach aid isn't in pink foam form, and it's quite enjoyable. Cilantro and ginger join together in a one-two punch for combating stomach ailments. Both ingredients are detoxifying— ginger soothes digestive issues and cilantro helps clean up your blood and bolster immunity.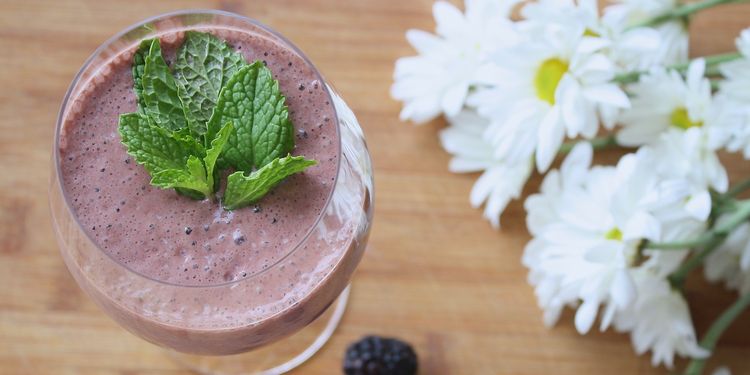 Chocolate Banana Nut Smoothie
In a word? Tasty! This healthful smoothie is composed of very few items: almond milk, banana, and chocolate protein powder. Protein powder comes in many forms, deriving from whey (for those who can handle dairy) or pea or rice (for those who can't or who prefer a vegan option). Bananas provide potassium, magnesium, and fiber, making them a good choice for active people. They also have a lot of sugar and not much protein, so they may not be a good choice if you're insulin-resistant or are watching blood sugar.
Chocolate Almond Oatmeal Smoothie
Skip the cookies and have this smoothie instead. Rolled or old-fashioned oats— not the instant, quick-cooking kind— are a healthy, gluten-free, whole grain option for any diet. (Check labels to ensure there hasn't been gluten cross-contamination in processing.) Because oats are high in fiber, they help lower cholesterol and regulate insulin. Almonds contain compounds that give you good skin glow and help fight the effects of skin cancer and sun damage.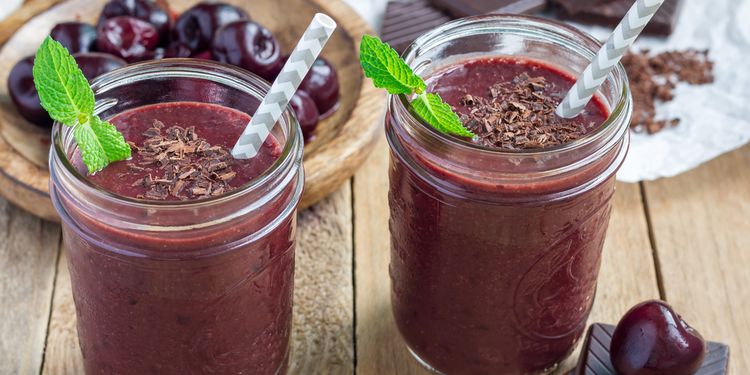 Chocolate Cherry Hemp Seed Smoothie
I was already Team Chocolate Cherry, but the next part made me jump for joy! When you throw in delicious hemp seeds, you're not only adding a flavor that will complement the two stars of this smoothie, you'll also boost your metabolism, balance hormones, and promote better digestion. Hemp seeds are also a complete protein, with all nine of the essential amino acids that our own bodies can't make. They'll help clean the colon and reduce sugar cravings due to being abundant in both soluble and insoluble fibers.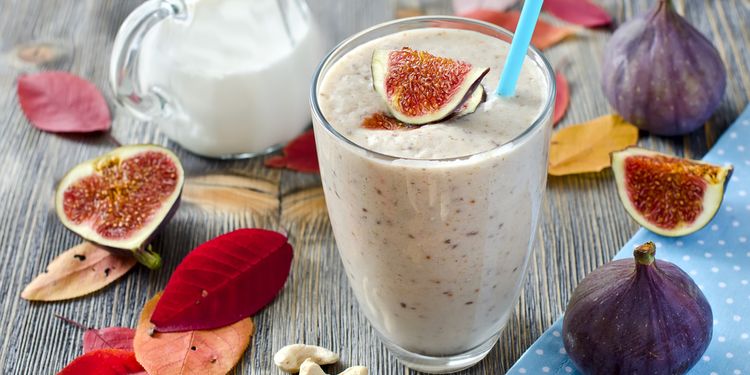 Fresh Figs and Cashew Butter Smoothie
Fresh figs are one of my all-time faves. Sadly, they aren't always available, so if you want this smoothie out of season, used dried, soaked figs instead. (Look for fresh figs in June and August-October.) Figs are low in sugar and contain many benefits, not the least of which are anti-cancer, anti-bacterial, and anti-fungal properties. Cashews are one of the good fats high in omega-3s as well as calcium, folate, folic acid, iron, magnesium, vitamin B, vitamin E, vitamin K, and zinc.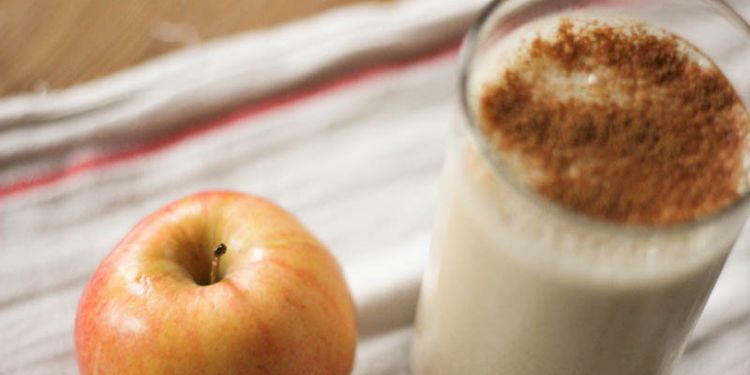 Apple Pie Smoothie
Apple peels are full of nutrients, so don't peel one before you put it in this smoothie. This smoothie draws from the rich flavor of pie with cinnamon, oatmeal, a banana, almond milk, and Greek yogurt. Organic, unsweetened, grass-fed dairy Greek yogurt has probiotics to keep your gut healthy and is a great source of protein. Check your labels carefully to make sure you're getting milk and live active cultures, not modified corn starch. Do your homework and know that Mom would approve of this one!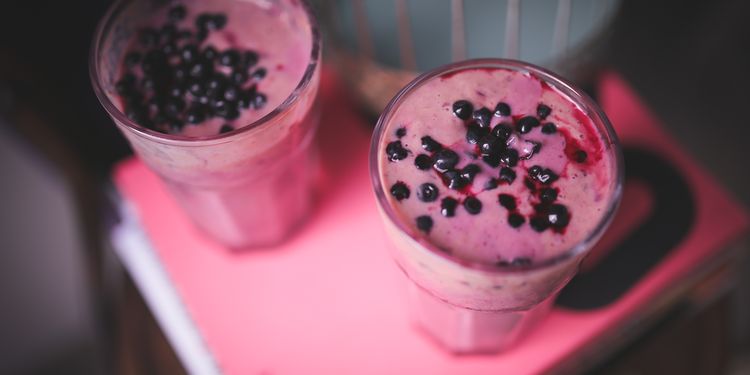 Nut Blueberry Smoothie
Some days I want a PB&J, and this blueberry smoothie does the trick for me. Blueberries, a frozen banana, almond milk, baby kale, and almond butter give this smoothie so much flavor and nutrition. Additionally, almonds contain compounds that block pain, so this smoothie is good for headache relief too. Just don't drink it too quickly so as to avoid the dreaded brain freeze!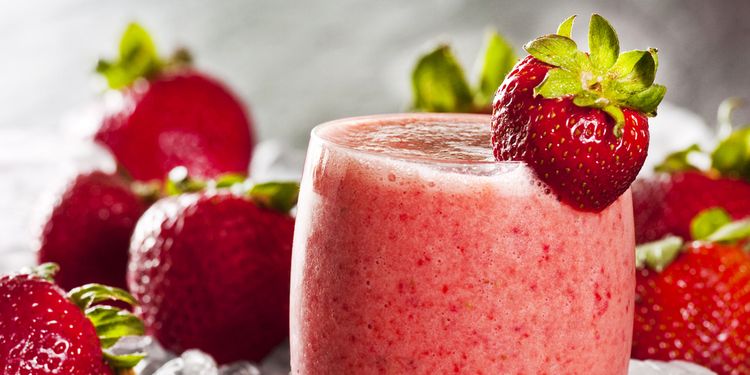 Strawberries and Cream Smoothie
Coconut milk, strawberries, ice, and chia seeds are all you need for this spectacular smoothie. This little glass of delightfulness is a fantastic option for vegans. Chia seeds are the best source of plant-based omega-3s you can get, and they will help you feel full faster. (Say that three times!) Because they increase to five times their size when in liquid, chia seeds give you that lovely satiated feeling without having to eat a lot.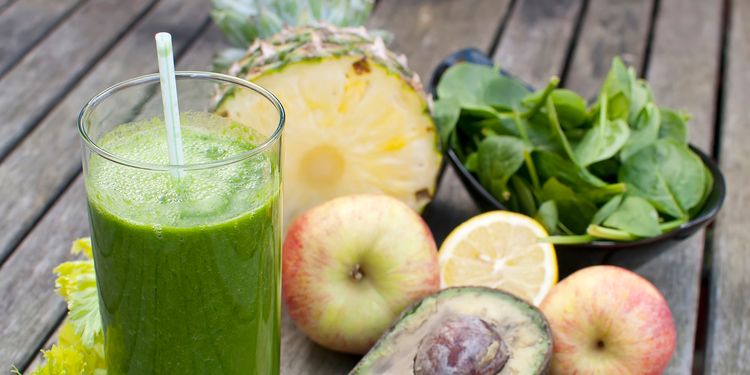 Pineapple Avocado Green Smoothie
I adore this smoothie. Pineapple is one of my favorite fruits, and with its allergy-fighting properties, low calorie count, natural sweetness, and high fiber content, it's easy to see why. It's also been shown to help with both male and female fertility due to loads of beta-carotene and vitamin C. Add the creaminess of avocado and your brain, heart, and stable blood sugar will thank you.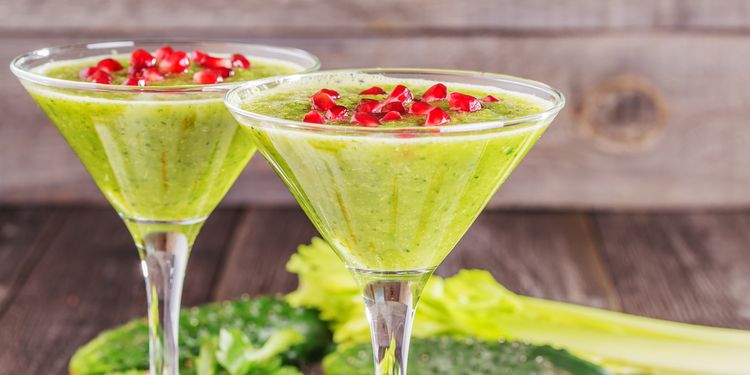 Strawberry Pomegranate Green Smoothie
Pomegranates are the unsung hero of the produce department. They are extremely appetizing and can reduce joint and arthritic pain, fight cancer, and lower blood pressure. But, you say, we've heard this all before! Drum roll, please: the humble pomegranate seed is also a natural aphrodisiac. Ahem. It increases salivary testosterone, which in turn can elevate your mood and increase sexual desire. Need I say more?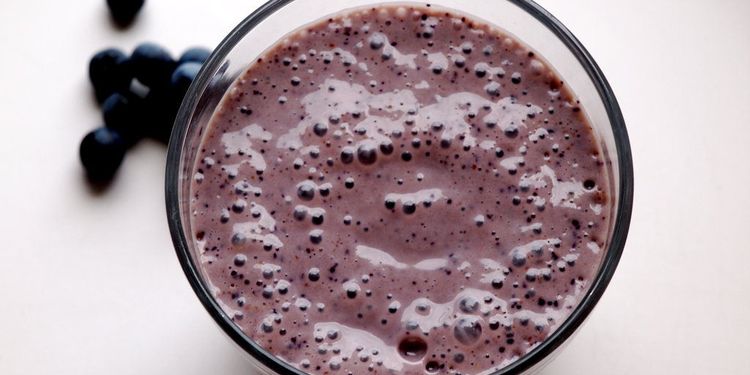 Brain-Boosting Smoothie
The name says it all. This potent smoothie calls on some of our favorites, like banana, avocado, blueberries, and protein powder, but with the addition of walnuts. Walnuts give you the omega-3 alpha-linolenic acid, copper, manganese, and melatonin. Alpha-linolenic acid assists with blood clotting and promotes healthy brain cells. It's been studied for its positive effects on depression, menstrual pain, breast cancer, and some auto-immune diseases like rheumatoid arthritis and lupus.